The world's largest mobile manufacturer Samsung introduces its latest flagship smartphone, Galaxy S III, to the Thai market today (Jun 7, 2012), a month after its world premiere in London. BK went to Sydney last month to attend Samsung Galaxy S III World Tour, aka the Asia-Pacific premier, which was held on May 31 at the Capitol Theatre in Sydney, Australia. And here's our hands-on experience.
The rival to the upcoming iPhone 5 boasts a pack of top-notch features like 4.8-inch Super AMOLED screen, quad-core 1,4GHz processor, Android 4.0 (aka Ice Cream Sandwich) operationg system, and 8 megapixel main camera and 1.9 megapixel front camera, both of which feature zero-lag shutter speed and HD video, along with a lot of user-centric functions.
Supposedly inspired by river pebbles, the phone is designed to fit perfectly in your palm. We tried and the rounded corners really do make it easier to hold the phone in one hand.
Even though the screen has grown from the Galaxy S II's 4.3 inches to 4.8 inches, there's not really a noticeable difference in width and thickness. The Galaxy S III is still surprisingly thin at 8.6 mm, only slightly wider than its predecessor.
The picture quality of its 8MP camera is impressive, with the zero-lag shutter speed a real bonus, complemented by great automatic exposure and white balance. It's hard to compare the camera with that of the iPhone 4S, but we'll soon put the two to the test.
Snap-happy smartphone users will love that the Galaxy S III enables you to easily take photos of yourself via its front camera simply by using voice command. Point the screen at your face, then say "cheese" (or "capture") and the camera will take a picture. You don't even need to touch the screen. Obviously this feature works best away from really noisy places.
Also useful are the eye-detection function, which ensures the screen won't turn off while you are reading, and the sophisticated voice assistant called S Voice. There are many more features we haven't tried, but from what we can tell Samsung has come up with probably its most user-friendly model.
Samsung Galaxy S III is on sale from today at B21,900 from AIS, Dtac and Truemove.
See photos from the Asia-Pacific launch event in Sydney and watch our hands-on video below.
>> Pretties out the front of the launch event at Capitol Theatre, Sydney.
>> Cee Chatpawee, IT news anchor from Channel 3.
>> Official leather cases in bold colors.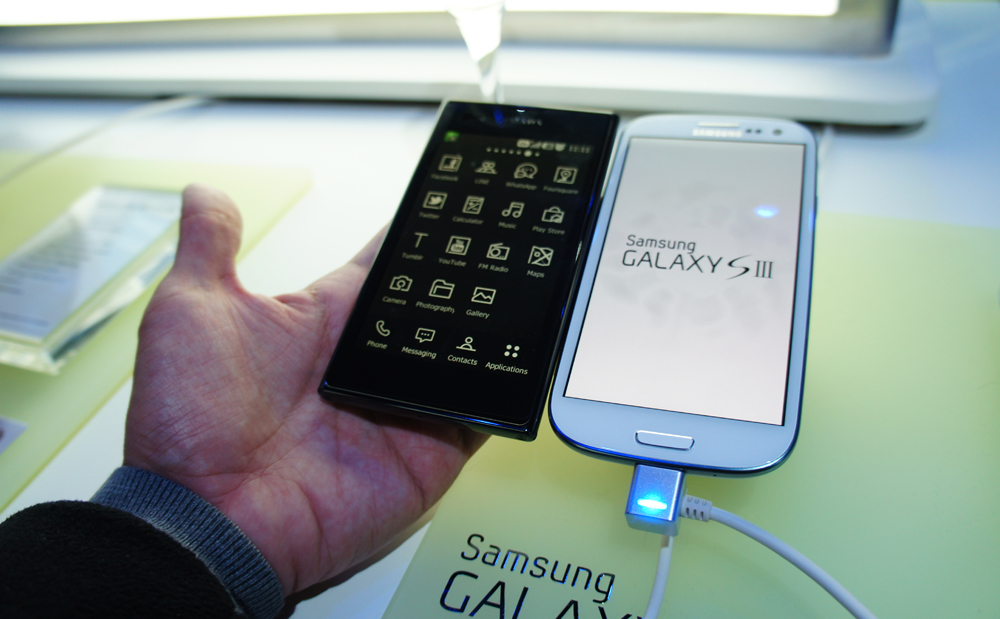 >> Comparing the Galaxy S III's size to a Prada phone.
>> Galaxy S III vs. Galaxy Note.