It's that time of year again when beautifully ornate mooncake pastries and boxes are sent to family, friends and business partners as a gesture of goodwill and greater things to come. While it's undeniably a quieter Mid-Autumn Festival this year, we can still indulge a little with a box full of yummy, sweet treats—best paired with tea, of course. Here are the best ones to get.

Ding Bakery

From delectable traditional mooncakes to exquisite snowskin treats, premium confectionery shop Ding Bakery has got it all. For the quintessential Mid Autumn delights, impress your loved ones with the Signature White Lotus Double Yolk Mooncake or the Premium Pandan Jade Lotus Double Yolk Mooncake. As for tantalising new flavours, go with the Mao Shan Wang Durian Snowskin mooncake, Exotic Passionfruit and Mango Snowskin mooncake and more.
All made with the finest ingredients, Ding Bakery's goodies are lower in sugar and better in taste. In fact, these handcrafted treats come packed in some of the most gorgeous packagings we've seen thus far. Simply head over to their website to order; free delivery applies for purchases above $100.

Bakerzin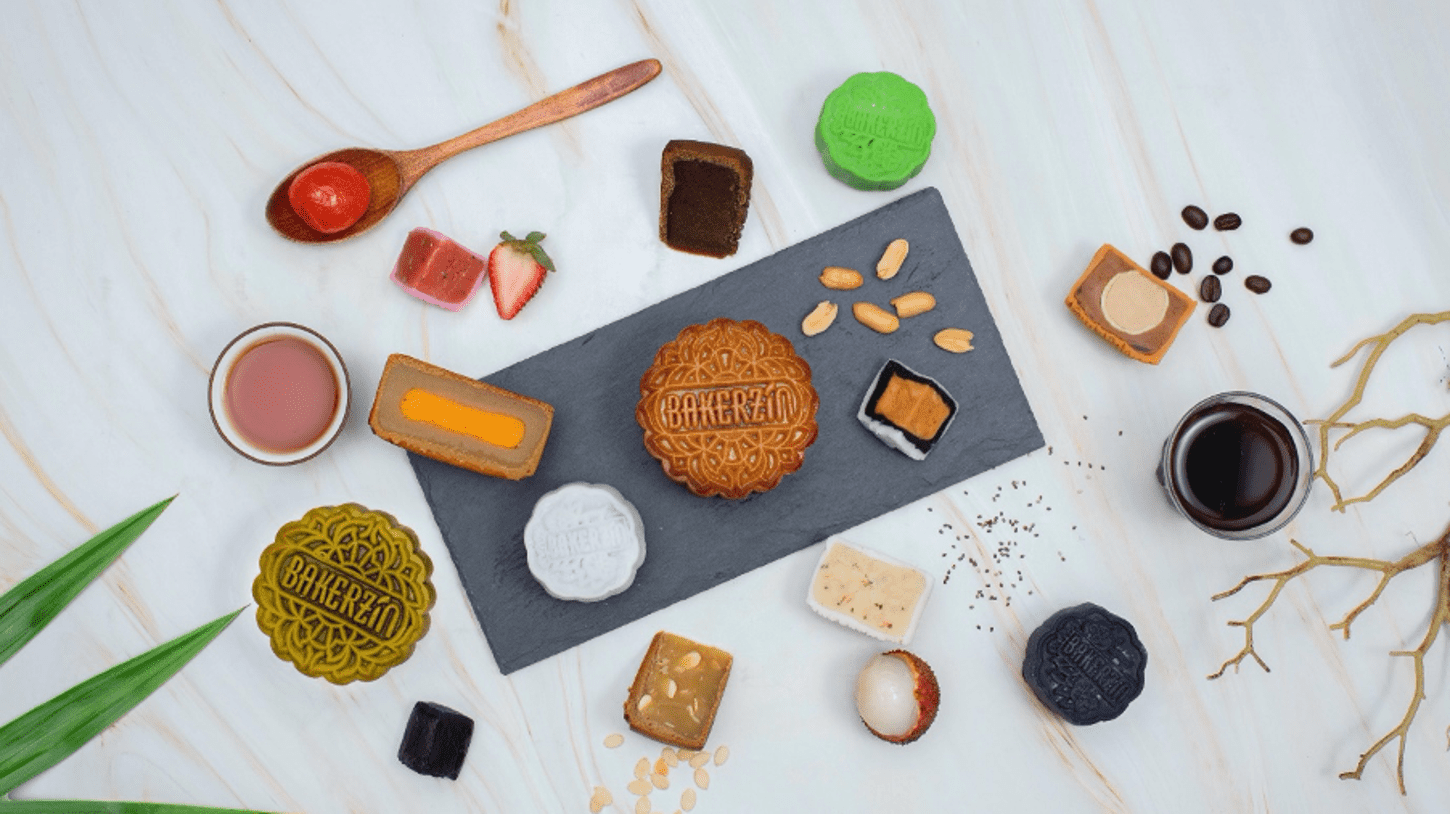 Bakerzin's Aromatic Latte Mooncake ($43.50 for four) boasts fragrant coffee notes with a bitter-sweet, smooth and chocolatey filling. Also available are their low sugar lotus paste Signature Egg Yolk mooncakes with local flavours including Pandan Egg Yolk, Classic Melon Seed or Classic Premium Egg Yolk. This year, the Snowskin Fruit Series ($50.50 for four) also gets a healthy twist with chia seeds in a choice of Honey Dew Chia Seed, Orange Chia Seed, Strawberry Chia Seed or Lychee Chia Seed. Black sesame lovers can choose from the ever-popular monochromatic, Pure Black Sesame Snowskin or Black Sesame and Peanut Butter Snowskin; while mod alcohol-infused mooncakes return with the Apple Vodka Truffle Snowskin or Latte Kahlua Truffle Snowskin. Order online.

Cherry Garden, Mandarin Oriental
Since having a spot of tea to pair with your mooncakes is how best to enjoy your Mid-Autumn treats, Mandarin Oriental has decided they might as well make theirs tea-infused. The highlight this year has got to be the Oolong Tea Infusion with Dried Apricot and Pumpkin Seeds, that's amazingly aromatic and fruity. Or try the new Exotic Passion Fruit with Candied Pineapple and Mango Mochi for a citrusy kick. For baked ones, new additions this year include the decadent Lugu Oolong Tea with Melon Seeds, or give the new Matcha Red Bean a go for something lighter. And as always, their low-sugar options, as well as their popular Lychee Martini and Chocolate Truffle flavours are available too. A box of eight mini snowskin mooncakes go for $78, while traditional mooncakes start from $78 for boxes of four. Order online.

Crowne Plaza Changi Airport
The hotel's collection of traditional baked mooncakes features classic flavours such as White Lotus Paste with Double Yolk, Low Sugar White Lotus Paste with Macadamia Nuts and the new Baked Nyonya Mixed Nuts Mooncakes ($42/two or $70/four). Or give their new assorted snowskin mooncake flavours a try. Inspired by Singaporean dessert flavours, find options like the Kueh Salat Pandan Kaya, Mango Pomelo, and Orh Nee (Yam Paste with Ginko Nuts), priced at $74 for four. Order online.

Feng Shui Inn, Resorts World Sentosa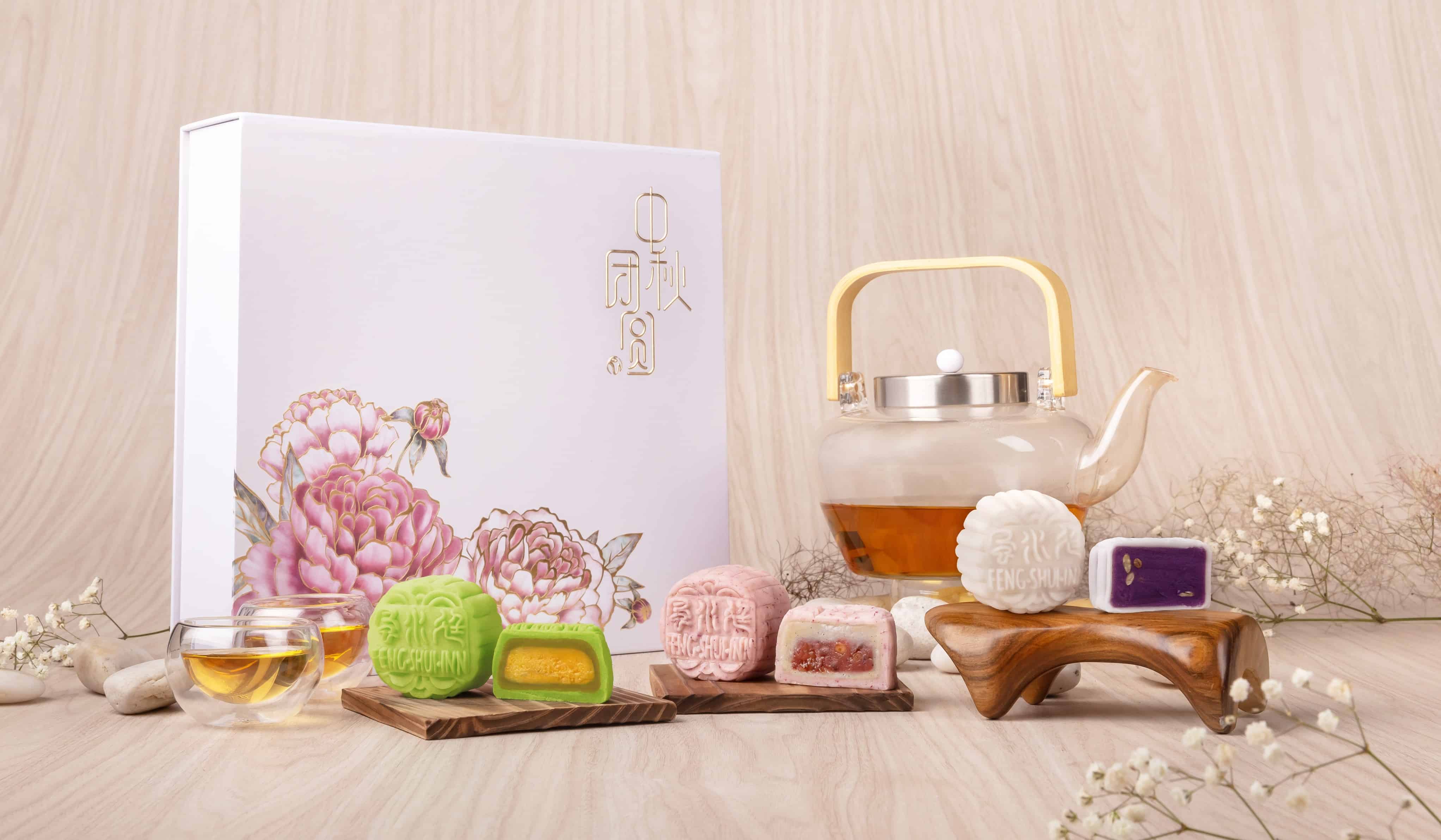 Boost your health and immunity with Premium Snowskin Mooncakes by Feng Shui Inn, created with ingredients such as lingzhi spores, manuka honey, matcha and aged tangerine peel. No artificial flavourings or colourings are used, so feel free to indulge heartily in this selection. In fact, they are made to be nutritious and heathful, a rarity for mooncakes and an especially important touch given the year's tribulations. Each premium speciality mooncake set retails at $98 nett per box of six pieces. Meanwhile, their traditional baked mooncake set is available at $68 for four pieces. Pace orders online.

The Fullerton Hotel Singapore
What's amazing about heritage property The Fullerton Hotel Singapore's mooncake offerings are their truly unique sets. First, there's the Clifford Pier Mooncake Tingkat ($98), where Singapore-inspired mooncakes using flavours like assam, chendol and even satay are presented in a sleek, beautiful tiffin carrier. Then there's the Jade Signatures Mooncake Collection 2020 (from $70 per box), with elegantly local snowskin creations like Yuan Yang (tea and coffee), Passion Fruit with Chin Chow, and Orange with Salted Kamquat available. Or go all-out with their Fullerton 15 Treasures Premium Gift Set ($198), which includes a giant baked mooncake surrounded by 14 smaller ones in various flavours such as orange, coffee and osmanthus. Order online.

Goodwood Park Hotel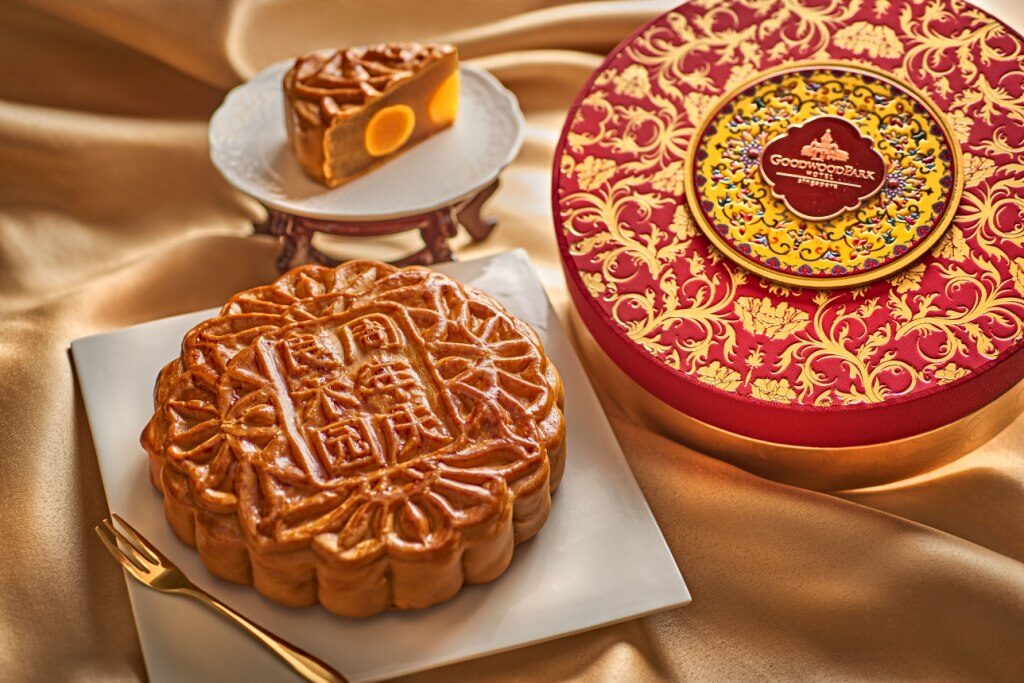 In celebration of its 120th anniversary and Mid-Autumn festivity, the hotel unveils a special 120th Anniversary Mooncake creation. Lavishly made with 12 salted egg yolks and white lotus seed paste, the 16.5cm wide baked mooncakes is priced at $108/piece. Expect new snowskin mooncakes flavours as well—Orange with Grape ($37/two) and Japanese Sweet Potato with Pumpkin-Coconut Centre ($41/two). Pre-order online for delivery and self pick-up here.

Hai Tien Lo, Pan Pacific Singapore

Find three new, exciting snowskin mooncake flavours by Hai Tien Lo this year. Green tea fans will love the Matcha Black Sesame Snowskin, while the Soursop Lychee is a refreshing treat perfect on a hot day. Then there's the Raspberry Chocolate Snowskin, a tart and crunchy creation packed with delicious ruby chocolate. Other than these new offerings, expect their best-selling Mao Shan Wang Durian Snowskin and Hazelnut Yuzu to be available too. Get the Four Treasures Snowskin Mooncakes (from $68.90) set that contains four snowskin varieties. Or if you're one that enjoys traditional baked mooncakes (from $69.80 for box of four), theirs won't disappoint too. Order online.

Madame Fan, JW Marriott Hotel Singapore South Beach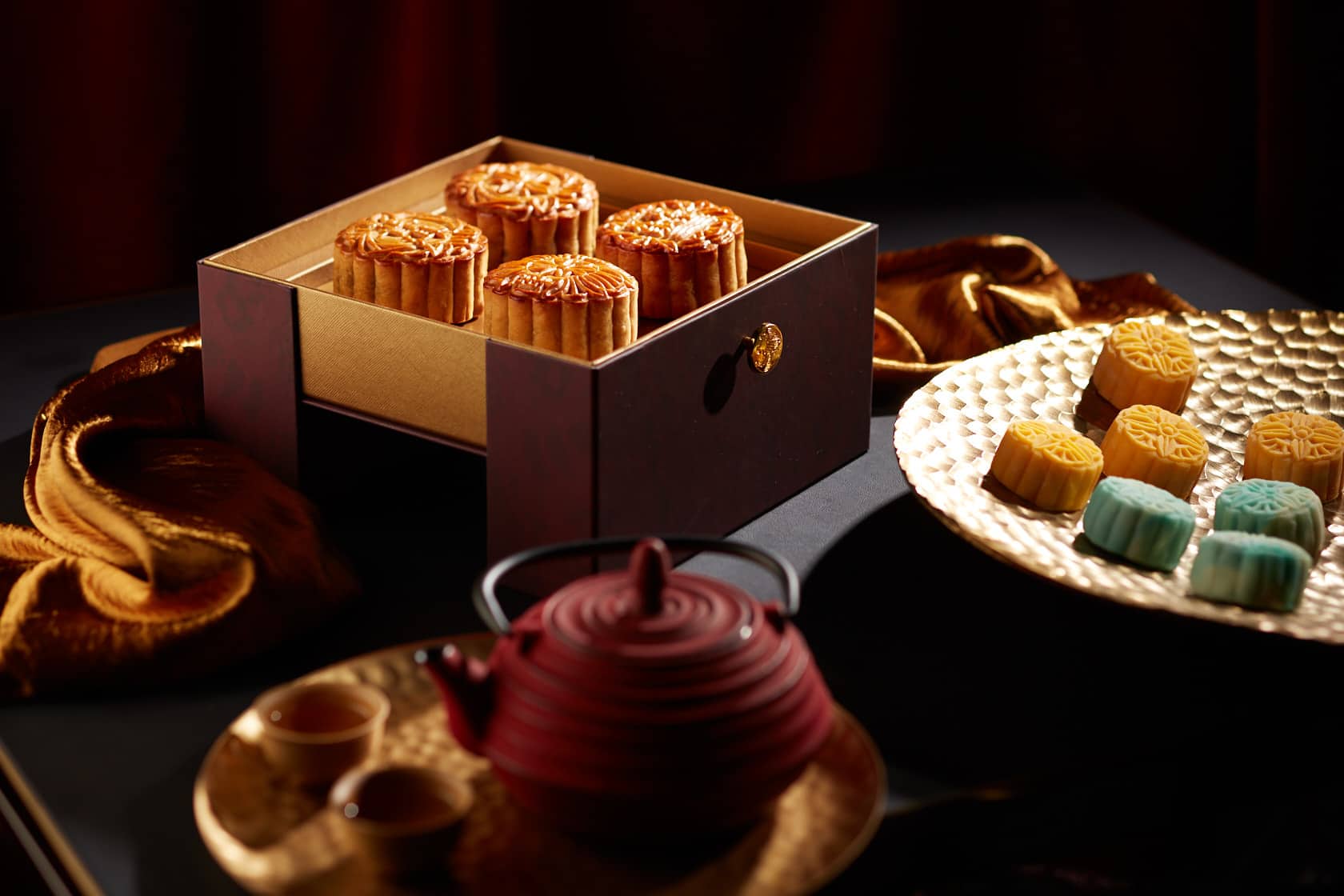 Celebrate the Mid-Autumn festivities with Madame Fan's decadent handcrafted old world classics such as the rich, low-sugar Double Yolk Lotus Paste ($82 for four), Pu'er with Chia Seeds ($76 for four) and the crunchy Premium Mixed Nuts ($78 for four), brimming with melon seeds, pecans, sesame seeds, almonds and preserved melons. But our favourite was the new, signature low-sugar Baked Single Yolk Lychee Lotus Paste ($80 for four), making its debut appearance this year. Better yet, order the Baked Mooncakes Medley for one mooncake of each flavour ($78 for four). Another debut flavour is the Bird's Nest with Japanese Sweet Potato Mini Snowskin ($88 for eight), along with the classic Mao Shan Wang Snowskin for durian lovers ($82 for eight). Purchase online.

Man Fu Yuan, InterContinental Singapore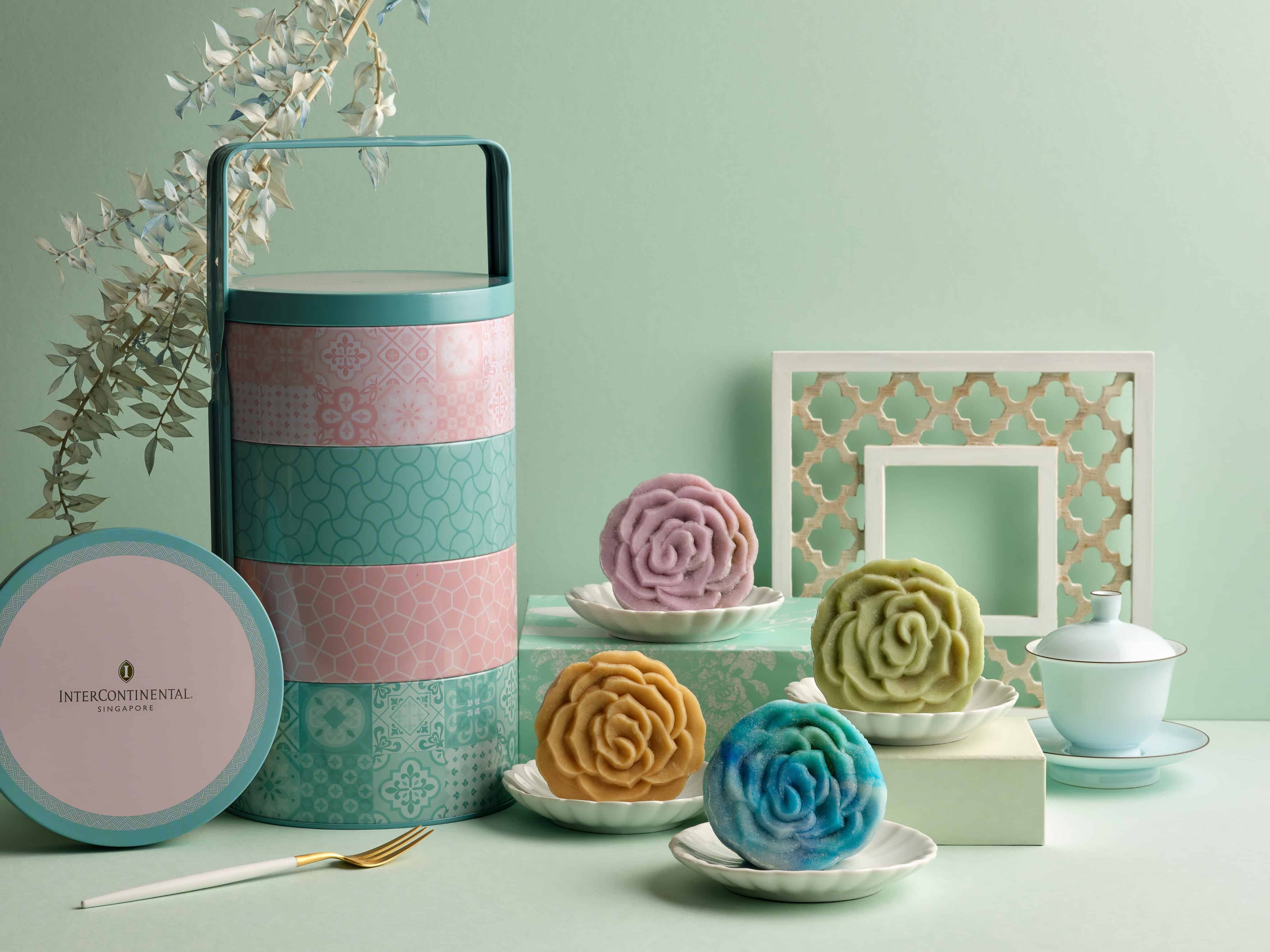 Peranakan dessert flavours are featured in Man Fu Yuan's rose motif mooncakes. These large, plump snowskin creations are presented in a pastel tingkat, with designs further inspired by the hotel's architectural elements. The Durian Pengat with a jammy filling is identified with a bright blue skin, tinted with blue pea flower, while the Pulut Hitam has added textures from candied longans and coconut. The Pandan and Coconut Kaya tasted sublime with a delectable kaya center, but it was the Chendol that stole the show for us—beautifully textured with chunky red bean adding bite and just enough pandan jelly and coconut to feel like the real thing. At $88 for a box of four, and with a tiffin carrier you can keep and reuse, it's one of the most sustainable options too. Place orders online.

Marina Bay Sands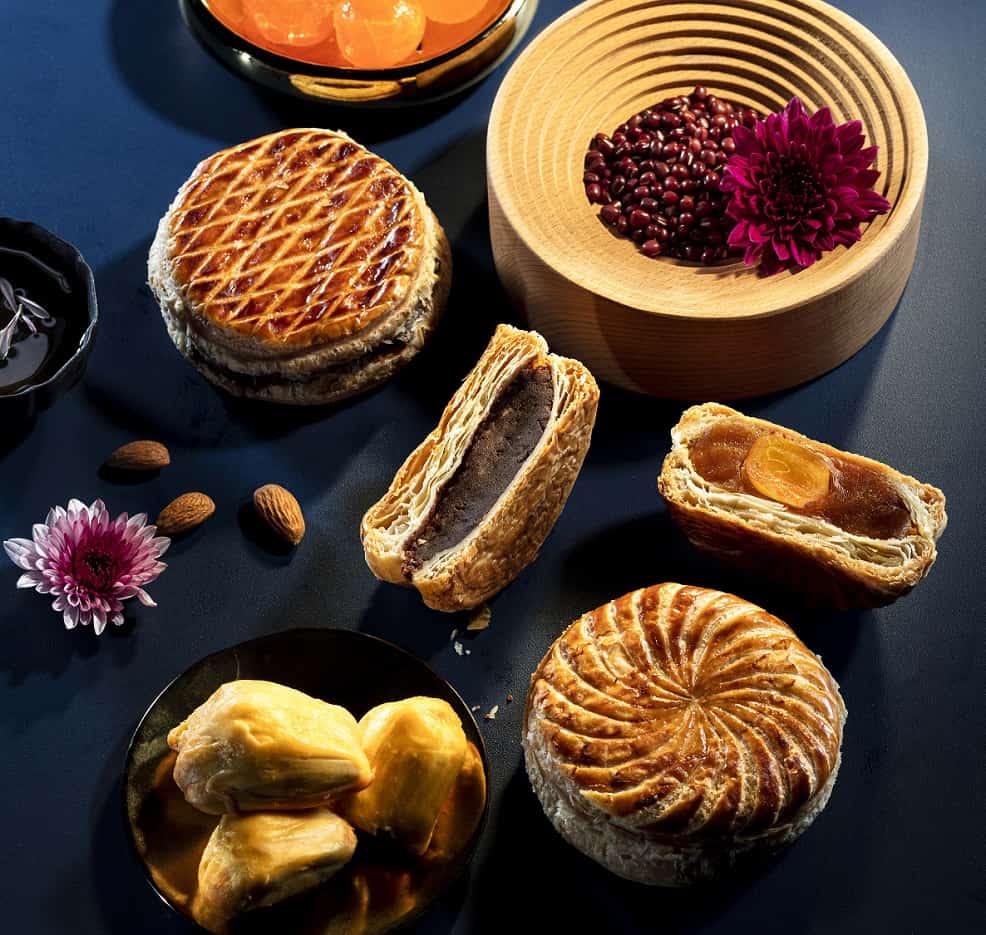 Eschewing the extravagant package designs most are still going for this year, the iconic MBS is opting for a more sustainable and practical approach this time for their mooncake boxes. So feel guilt-free as you indulge in their unique creations. Their baked mooncakes this year are all reimagined as puff pastries, with Baked Cempedak Mooncake and Baked Azuki Mooncake options to choose from. Meanwhile, instead of snowskins, find chocolate shell pastries instead. It's part of the integrated resort's new range of offerings, including the Chocolate-covered Sweet Potato Mooncake and the Chocolate-covered Black Sesame Mooncake. A box of four is $48, available in three different combinations—assorted, baked or chocolate-covered. Place orders online.

The Marmalade Pantry
Probably the most interesting yet still practical mooncake box design this year has got to go to these guys. Theirs is an eye-catching scarlet handbag, hand-woven using rattan paper material, lined with fabric and even sports a bamboo handle and twist lock for ease of use as an actual bag. Inside, find traditional baked mooncakes with a twist. The standout has got to be the Golden Charcoal Baked Mooncake with Black Sesame, while the Baked Taro Mooncake with Lychee Flavour will please those looking for a fragrant treat. All low-sugar and lard-free, get them for $68 nett for an assortment of four. It's sold out online, but try their ION Orchard and OUE Downtown outlets for possible sets still left.

Regent Singapore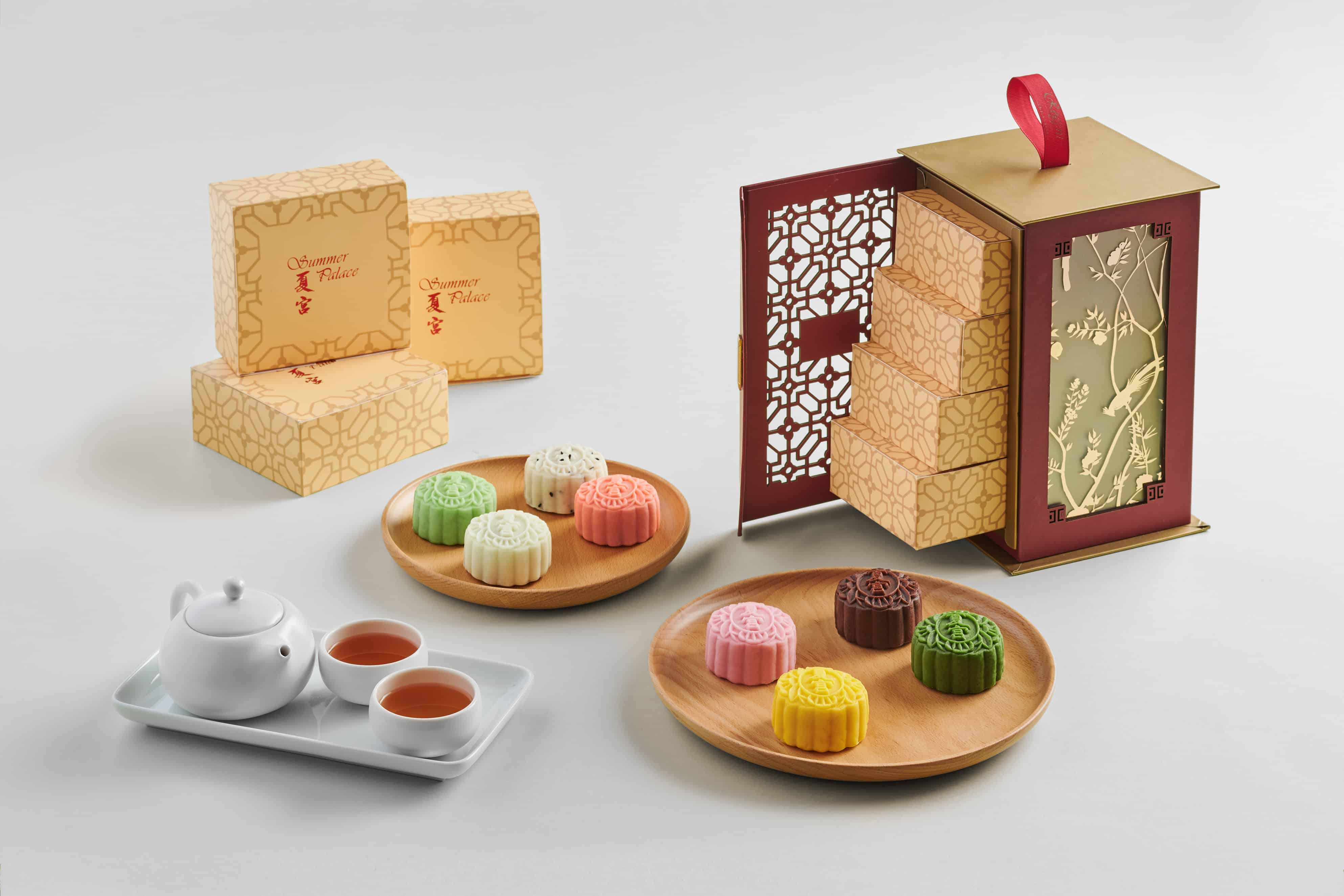 Carrying on the tradition of creating flavours by its various restaurants, Regent takes inspiration from Italian flavours at Basilico with the Pistachio, Fig and Amarena Cherry snowskin mooncake with prized cherries from Bologna that's known for its luscious notes, Sicilian pistachios and dried figs. The Double Espresso and Almond Marzipan snowskin also embodies the Italian spirit of coffee drinkers. Tea Lounge, on the other hand, presents a Green Tea with Melon Seeds snowskin crafted from the finest tea from Gryphon. For an alcoholic touch, Manhattan features the Plantation Rum, Spiced Coconut and Yuzu in its Macapuno mooncake. Summer Palace stays true to its tradition by whipping up bestsellers such as the Signature Black Sesame Paste and White Lotus Paste with Salted Egg Yolk and Melon Seeds. Comes in four- and eight-piece sets ranging from $78 to $86. Place orders online.

Si Chuan Dou Hua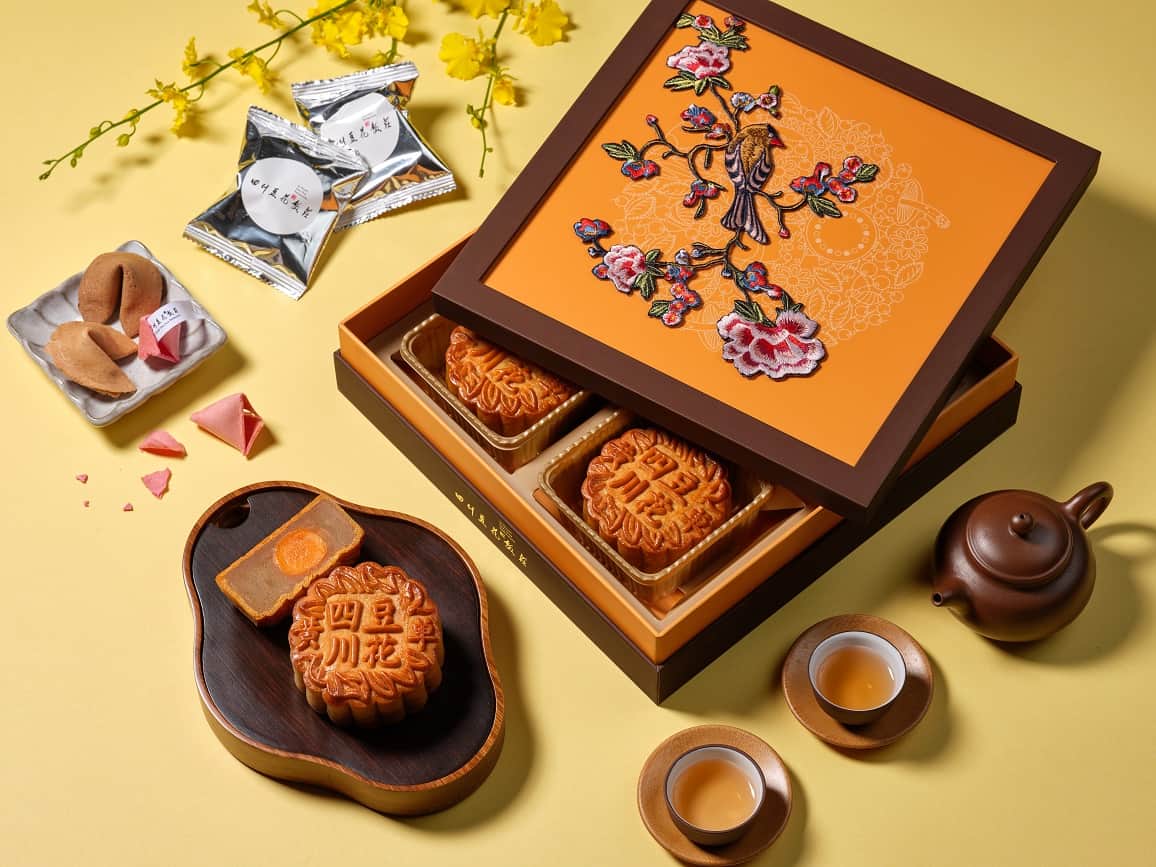 Their low-sugar mooncakes are always a guilt-free treat, and this year, other than the classic White Lotus Seed Paste Mooncakes with Single and Double Yolks ($72-78 for box of four), the popular onyx black Charcoal White Lotus Seed Paste Mooncakes with Macadamia Nuts ($68 for box of four) makes its return this Mid-Autumn as well. Expect your mooncakes to come in elegant gold boxes with embroidery signifying prosperity and good fortune. Accompanying each box is also a golden pouch, containing eight pieces of fortune cookies in flavours like butter, mocha and strawberry. Crack them open and find surprise prizes ranging from complimentary Peking Duck or bottle of house wine during the next visit to any Si Chuan Dou Hua Restaurant outlet in Singapore. Place orders online.

Yan Ting, The St Regis Singapore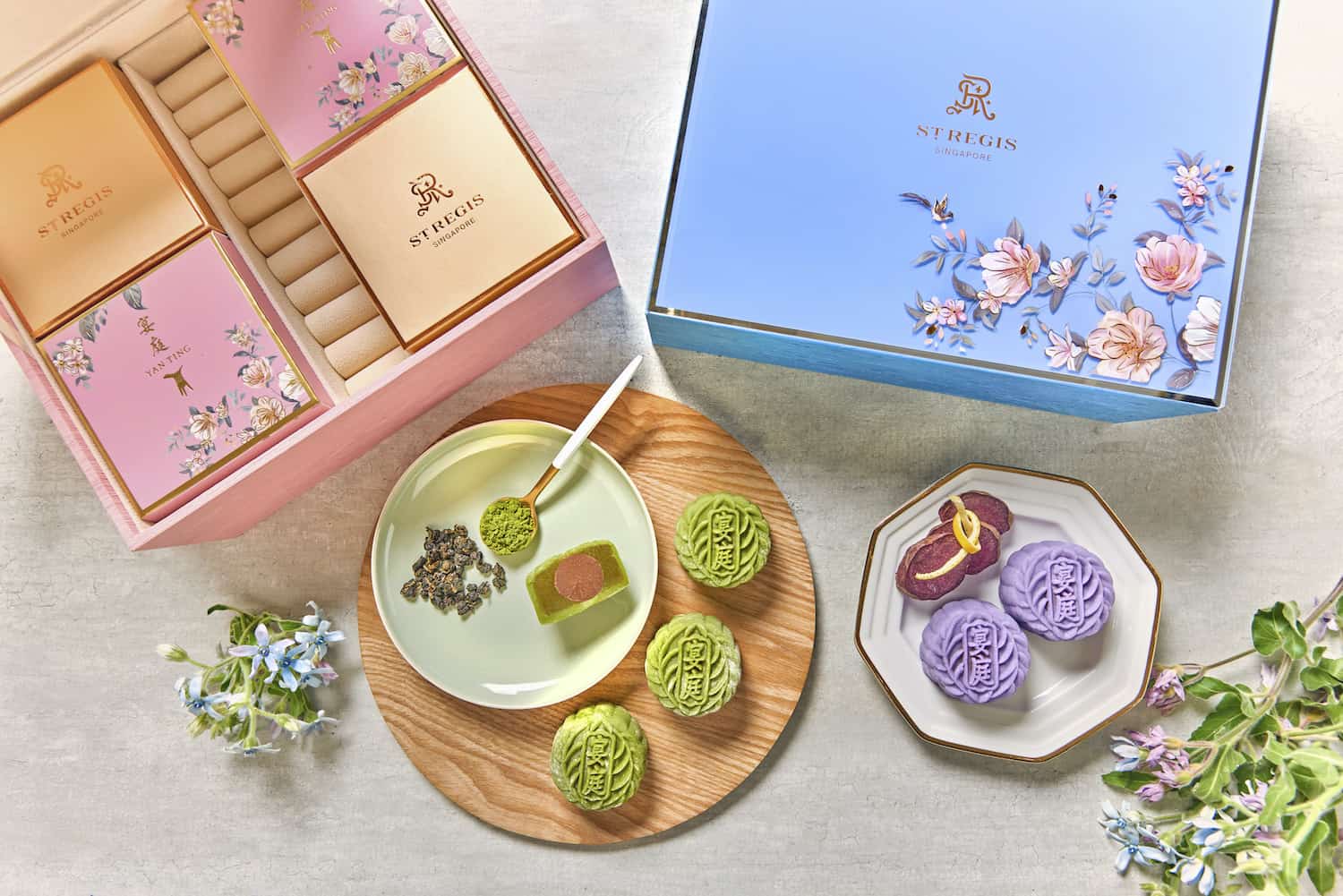 From exquisite tea infusions to truffles and Mao Shan Wang durian, Yan Ting captivates taste buds with new flavours as well as classics. The Royal Milk Tea with Honey Osmanthus Truffle Mini Snowskin Mooncake is made with Dong Ding tea leaves, while the Green Tea Paste with Oolong Tea Truffle Mini Snowskin Mooncake is made with premium matcha powder for a buttery creamy bite. For a contrast in flavours, try the salty-sweet Black Sesame Paste with Caramel Sea Salt Truffle and sweet-zesty Honey Purple Sweet Potato Paste with Orange Yuzu Truffle. Traditional baked favourites are available with single or double yolks as well as the White Lotus Paste with Assorted Nuts and Yunnan Ham. Place orders online.