if you're planning your next holiday to the kingdom of smiles, why not head to Khao Yai? It's located in a national park, has some cool hotel openings, craft workshops and a new coffee place. Plus, you'll get to zen out with all that greenery.
1. Stay in a resort that used to be a quarry
Set on a former quarry,
Nhapha Khao Yai Resort
is designed to blend with the craggy surrounds and comes with two room types: the hilltop 90-sq-meter deluxe Chom Hin Pha (from about $471) and the hill-side 50-sq-meter Ping Hin Pha (from about $314), which combines floor-to-ceiling windows with marble-stone walls. As it's owned by Thavorn Ko-Udomvit, a renowned lecturer at Silpakorn University and the guy behind Ardel Gallery of Modern Art, the hotel is full of art pieces from leading local and international artists such as ceramiist Nino Sarabutra and sculptor/photographer Wasinburee Supanichvoraparch, along with Japanese printmakers Tetsuya Noda and Kansuke Morioka. There's also a red pool on-site. For more art, head to the nearby
Khao Yai Art Museum
, which is just a five-minute drive away.
Bungtoey-Khlongdindam Rd., Moo 14, Moo-Si, Pakchong, +65 (0) 93 636 9999.
---
2. Stay in an European-style wooden cottage
Birder's Lodge
is a quaint new resort that features five European-style wooden cottages spread across lush, flora-filled grounds. Each one comes in a homely modern-meets-rustic style, fully equipped with a kitchen and utilities. Prices range from around $118-177 per night. During the current promotional period, guests also receive a free barbecue set for a private grill dinner right outside their cottage. There are also bikes available for you to take in all that fresh air. If you're only doing a one-day trip, there's also a pretty stunning cafe on-site that sticks to that winning combo of raw wood and greenery.
282 Moo 10, Moo-si, Pakchong, +65 (0) 96-545-4154.
---
3. Check in to a beautiful lakeside resort with a spa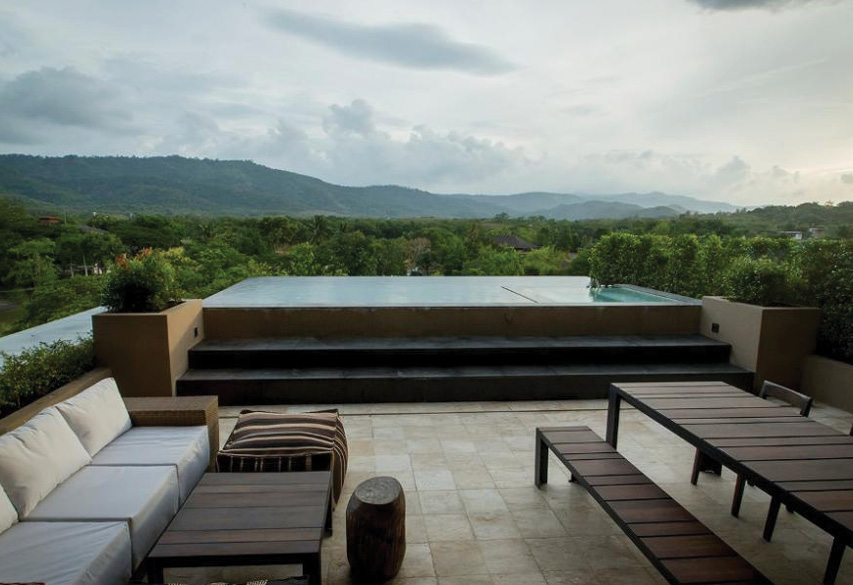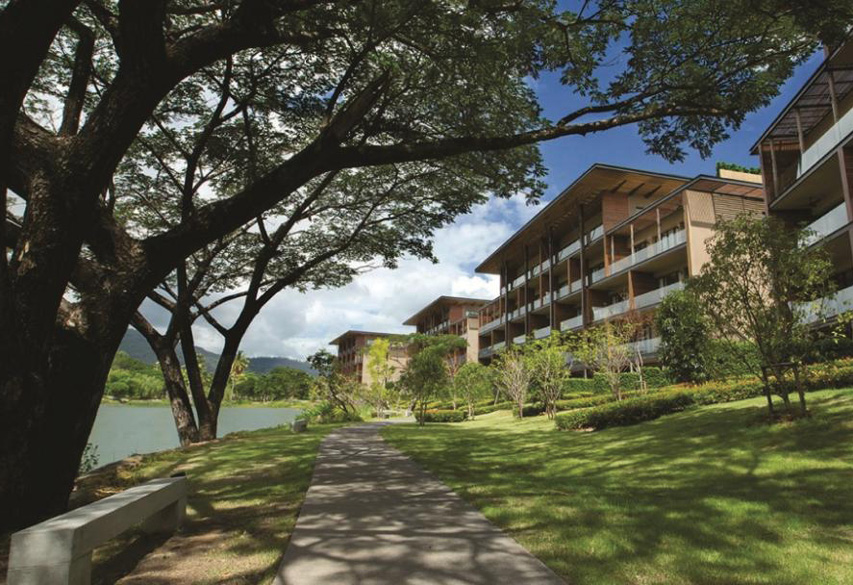 The people behind Kirimaya Golf Resort & Spa (complete with stunning Jack Nicklaus-designed 18-hole championship golf course) just unveiled a sister resort. Perched by a lake, in the foothills of Khao Yai National Park,
Atta Lakeside Resort
is home to 243 rooms spread across nine low-rise buildings. It flaunts modern-style decor, in soft brown hues to complement the leafy surroundings, while floor-to-ceiling windows showcase the real highlight: unbeatable views. Rates start at around $610 per night for a one-bedroom suite. Splurge on the rooftop penthouses (about $1,299 per night) for panoramic views of the national park from your private infinity pool. The mountain scenery from the swimming pool and open-air restaurant are also not to be missed.
1/3 Moo 6 Thanarat Road, Moo-Si, Pakchong, +65 (0) 44-426-000.
---
4. Or stay in a villa next to a gorgeous forest
Escape Khao Yai
's new 263 sq-meter three-bedroom villas, decked out in neutral wooden furniture, come with three bedrooms and bathrooms, a pantry, spacious living room and, the highlight, a private, sunken pool. You can also throw in high ceilings and big windows showing great views of the lush Khao Yai forests. The resort has plenty to offer after your daytime nature walk, such as a multipurpose outdoor spot with a fireplace, a restaurant serving farm-to-table dishes, rooftop bar and communal pool with a well-stocked bar. There is also a fitness center offering classes like indoor cycling to boxing. Priced at about $984.
29 Pansuk-Kudkla Rd., Phayayen, Pak Chong, +65 (0) 92-823-2590.
---
5. Participate in a craft workshop
Still making plans for the Makha Bucha Day long weekend? Khao Yai National Park is gearing up for Khao Yai Dee Jang Craft, a nature-slash-craft event. The two-day event (Feb 20-21) will include workshops focused on natural postcard painting, dream catcher and mask making, as well as mini exhibition showcasing wildlife and forest photography and leaves from the jungle. The workshops are open to everyone, running from noon-4pm at the visitor center both days. There will be a mini-workshop-plus-talk at 5:30pm on Feb 20 from Patarapol Maneeorn, considered Thailand's preeminent wildlife veterinarian (conducted in Thai). All activities are free, but you'll still need to pay a park entrance fee of approximately $15.74.
---
6. Go harvest some grapes
Khao Yai's GranMonte Vineyard and Winery
is on its final harvest season, during which visitors who come for their regular $11 wine-tasting tour have a chance to also join in with the grape picking through the end of February.
52 Moo 9 Phayayen, Pakchong, +65 (0)44-009-543, +65 (0) 81-900-8282.
---
7. Have coffee at this new cafe
Submarine Coffee Tank
is a project by Secondfloor Architects, who have designed the property in a way that integrates it with the natural surroundings to provide visitors a relaxing, peaceful caffeine fix amid the leafy trees near the entrance of Khao Yai National Park. The industrial-chic, semi-open air cafe is already a hit with locals and visitors, thanks to its insta-friendly design and yummy drinks and dessert offerings, which include over 10 types of cold press juices plus a seasonal menu. It's only open three days a week, though (Fri-Sun, from 9am-11pm), so plan wisely.
149 Moo 10, Moo-si, Pakchong, +65 (0) 96-981-0682.